Pagina 2 van 2 •
1, 2
sowhat schreef:jawel hoor

Mirrr

Music-Master





Aantal berichten

: 10216


Registratiedatum

: 21-12-08


Leeftijd

: 56



Ja hoor daar zijn ze dan! De laatste nummers die zichtbaar zijn verpakt in dit blokje! Vanaf morgen om 14.00 uur staat de Verrukkelijke stream aan. Eerst de warming up ook wel de Pré Show genoemd, gepresenteerd door Mark & Dave
En daarna vanaf 18.00 uur de 12e editie van de V500. Wees erbij want het is dit jaar groter dan ooit en natuurlijk komen er de nodige verrassingen voorbij!!!!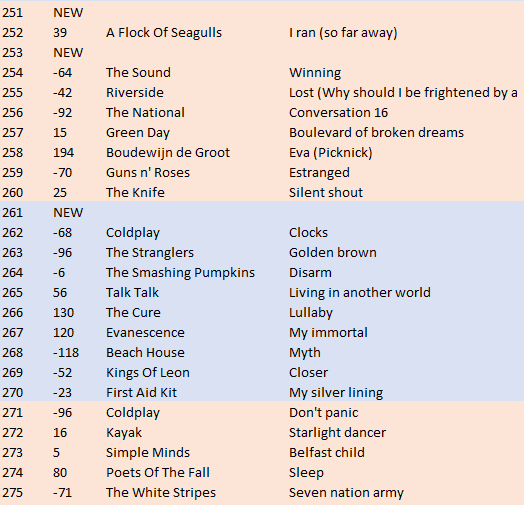 _________________
If music be the food of love, play on.
William Shakespeare

Dave Evans

Moderator





Aantal berichten

: 23450


Registratiedatum

: 04-12-08


Leeftijd

: 55


Woonplaats

: Meppel



Oh ik zie nu 8 nummers en Poets of the Fall met Sleep is 80 plaatsen gestegen, heel mooi!!

Mirrr

Music-Master





Aantal berichten

: 10216


Registratiedatum

: 21-12-08


Leeftijd

: 56



de balans na de totale voorpublicatie:
totaal 6 uit mijn lijst waarvan 5 gezakt
Volledige Lijst:

De Verrukkelijke 500 - Editie 2019

[001] [001] [001] [001] [007] 001 Pearl Jam - Black (1991)
[003] [003] [002] [003] [002] 002 Radiohead - Street Spirit (Fade Out) (1995)
[013] [014] [007] [004] [001] 003 The Beatles - A Day In The Life (1967)
[011] [004] [003] [007] [004] 004 Porcupine Tree - Arriving Somewhere But Not Here (2005)
[004] [005] [010] [008] [003] 005 Dire Straits - Telegraph Road (1982)
[019] [006] [006] [002] [006] 006 The Cure - A Forest (1980)
[009] [011] [009] [011] [008] 007 Deep Purple - Child In Time (1970)
[014] [017] [005] [009] [010] 008 Supertramp - Fool's Overture (1977)
[002] [009] [008] [006] [005] 009 Pink Floyd - Comfortably Numb (1979)
[007] [002] [004] [005] [009] 010 U2 - The Unforgettable Fire (1984)

[006] [007] [015] [010] [013] 011 Led Zeppelin - Stairway To Heaven (1971)
[016] [008] [011] [013] [018] 012 Coldplay - Fix You (2005)
[020] [018] [013] [015] [011] 013 Muse - Knights Of Cydonia (2006)
[017] [013] [019] [019] [024] 014 Foo Fighters - Everlong (1997)
[022] [021] [032] [025] [030] 015 Supertramp - School (1974)
[018] [029] [022] [020] [019] 016 Dire Straits - Brothers In Arms (1985)
[005] [015] [012] [014] [012] 017 Pink Floyd - Shine On You Crazy Diamond (1-5) (1975)
[010] [019] [017] [017] [014] 018 Pink Floyd - Wish You Were Here (1975)
[048] [050] [050] [032] [052] 019 David Bowie - "Heroes" (1977)
[034] [025] [043] [056] [028] 020 The Beach Boys - God Only Knows (1966)

[069] [030] [018] [029] [026] 021 Manic Street Preachers - Motorcycle Emptiness (1992)
[046] [032] [025] [024] [021] 022 Depeche Mode - Enjoy The Silence (1990)
[023] [040] [031] [021] [023] 023 Eagles - Hotel California (1976)
[040] [038] [044] [038] [022] 024 Fleetwood Mac - Go Your Own Way (1977)
[024] [023] [023] [016] [029] 025 Rage Against The Machine - Killing In The Name (1992)
[032] [027] [030] [035] [031] 026 Dire Straits - Sultans Of Swing (1978)
[056] [047] [037] [048] [059] 027 Anathema - Dreaming Light (2010)
[310] [113] [065] [030] [017] 028 The War On Drugs - Red Eyes (2013)
[120] [091] [060] [061] [046] 029 Manic Street Preachers - If You Tolerate This Your Children Will Be Next (1998)
[058] [053] [033] [054] [042] 030 Keane - Bedshaped (2004)

[015] [010] [014] [012] [015] 031 Nirvana - Smells Like Teen Spirit (1991)
[012] [012] [021] [018] [020] 032 Radiohead - Paranoid Android (1997)
[.....] [.....] [.....] [.....] [.....] 033 White Lies - Time To Give (2018)
[008] [016] [020] [022] [036] 034 Johnny Cash - Hurt (2002)
[027] [022] [027] [026] [043] 035 Muse - Bliss (2001)
[051] [046] [055] [058] [016] 036 Queen - Bohemian Rhapsody (1975)
[.....] [135] [083] [051] [049] 037 Poets Of The Fall - Carnival Of Rust (2006)
[030] [020] [024] [023] [025] 038 Elbow - One Day Like This (2008)
[070] [056] [071] [081] [032] 039 Kate Bush - Wuthering Heights (1978)
[275] [149] [129] [066] [053] 040 Alter Bridge - Blackbird (2007)

[259] [179] [124] [121] [062] 041 Electric Light Orchestra - Mr. Blue Sky (1977)
[026] [024] [064] [037] [039] 042 Band Of Horses - The Funeral (2006)
[077] [034] [026] [031] [027] 043 The The - Uncertain Smile (1982)
[033] [051] [052] [033] [069] 044 The Verve - Bitter Sweet Symphony (1997)
[203] [102] [078] [074] [034] 045 Paolo Nutini - Iron Sky (2014)
[093] [092] [115] [154] [209] 046 Sinéad O'Connor - Troy (1987)
[031] [026] [036] [034] [054] 047 Pearl Jam - Alive (1991)
[028] [055] [047] [045] [041] 048 The Rolling Stones - Gimme Shelter (1969)
[036] [041] [034] [027] [047] 049 Radiohead - Karma Police (1997)
[043] [063] [091] [040] [037] 050 The Smiths - There Is A Light That Never Goes Out (1986)

[162] [065] [081] [036] [045] 051 Queen - Innuendo (1991)
[021] [033] [041] [039] [033] 052 Arcade Fire - Rebellion (Lies) (2004)
[.....] [035] [016] [063] [038] 053 Steven Wilson - The Raven That Refused To Sing (2013)
[097] [062] [057] [053] [070] 054 The Doors - Riders On The Storm (1971)
[053] [070] [082] [057] [044] 055 dEUS - Instant Street (1999)
[086] [119] [103] [072] [040] 056 Editors - Papillon (2009)
[107] [078] [040] [043] [068] 057 John Lennon - Imagine (1971)
[075] [071] [051] [052] [075] 058 New Order - Blue Monday (1983)
[399] [493] [.....] [225] [137] 059 Earth, Wind & Fire - Fantasy (1978)
[219] [185] [085] [050] [058] 060 David Bowie - Life On Mars? (1971)

[.....] [.....] [.....] [.....] [239] 061 Michael Kiwanuka - Cold Little Heart (2016)
[045] [031] [028] [047] [035] 062 Dream Theater - The Count Of Tuscany (2009)
[122] [086] [137] [135] [078] 063 Arcade Fire - Intervention (2006)
[185] [169] [113] [078] [116] 064 Prince & The Revolution - Purple Rain (1984)
[276] [137] [072] [181] [099] 065 Queensrÿche - Silent Lucidity (1990)
[064] [044] [058] [105] [063] 066 Snow Patrol - Run (2003)
[035] [042] [084] [087] [111] 067 Guns N' Roses - November Rain (1991)
[041] [049] [070] [046] [055] 068 The Smiths - How Soon Is Now? (1984)
[241] [131] [120] [103] [134] 069 Marillion - Kayleigh (1985)
[164] [170] [181] [140] [148] 070 Radiohead - Exit Music (For A Film) (1997)

[076] [088] [069] [069] [048] 071 Arcade Fire - No Cars Go (2007)
[117] [110] [121] [098] [065] 072 Pulp - Common People (1995)
[395] [402] [135] [080] [088] 073 The Beach Boys - Good Vibrations (1966)
[102] [128] [184] [084] [103] 074 Massive Attack - Teardrop (1998)
[052] [094] [143] [118] [243] 075 The Jimi Hendrix Experience - All Along The Watchtower (1968)
[039] [048] [029] [044] [061] 076 The Doors - The End (1967)
[370] [215] [054] [089] [080] 077 Simple Minds - Waterfront (1984)
[.....] [217] [125] [159] [087] 078 The Maccabees - Spit It Out (2015)
[142] [250] [245] [258] [093] 079 Boudewijn De Groot - Verdronken Vlinder (1966)
[067] [043] [066] [073] [109] 080 The Cult - She Sells Sanctuary (1986)

[189] [193] [100] [091] [077] 081 Ultravox - Vienna (1980)
[057] [100] [178] [067] [086] 082 The National - Fake Empire (2007)
[145] [228] [260] [083] [127] 083 Oasis - Don't Look Back In Anger (1995)
[068] [045] [042] [028] [081] 084 U2 - Bad (1984)
[080] [072] [107] [088] [090] 085 Porcupine Tree - Lazarus (2005)
[124] [116] [291] [189] [067] 086 Foo Fighters - The Pretender (2007)
[234] [341] [151] [259] [152] 087 Editors - No Sound But The Wind (2009)
[060] [054] [114] [102] [153] 088 System Of A Down - Chop Suey! (2001)
[334] [243] [361] [.....] [.....] 089 The Beatles - Let It Be (1970)
[.....] [.....] [.....] [095] [064] 090 Arcade Fire - Everything Now (2017)

[.....] [231] [192] [212] [115] 091 London Grammar - Strong (2013)
[061] [103] [112] [094] [112] 092 The National - Bloodbuzz Ohio (2010)
[192] [162] [095] [076] [113] 093 Linkin Park - In The End (2000)
[029] [028] [039] [064] [184] 094 Metallica - One (1988)
[037] [057] [049] [070] [083] 095 Simple Minds - New Gold Dream (81-82-83-84) (1982)
[466] [.....] [393] [221] [091] 096 Sufjan Stevens - Chicago (2005)
[245] [153] [111] [093] [122] 097 The Moody Blues - Nights In White Satin (1967)
[049] [075] [093] [100] [066] 098 Pink Floyd - High Hopes (1994)
[184] [112] [145] [152] [216] 099 The Cranberries - Linger (1992)
[047] [081] [074] [132] [079] 100 Metallica - Nothing Else Matters (1991)

[065] [052] [035] [041] [071] 101 U2 - With Or Without You (1987)
[396] [168] [056] [075] [076] 102 Placebo - Bosco (2013)
[094] [124] [097] [060] [051] 103 The Waterboys - Don't Bang The Drum (1985)
[054] [036] [038] [055] [210] 104 Bruce Springsteen - The River (1981)
[360] [189] [134] [134] [082] 105 MGMT - Time To Pretend (2007)
[090] [108] [080] [111] [206] 106 Lou Reed - Perfect Day (1972)
[246] [316] [162] [260] [231] 107 Moby - Why Does My Heart Feel So Bad? (1999)
[408] [298] [212] [214] [074] 108 Spinvis - Kom Terug (2011)
[126] [122] [258] [210] [236] 109 Jackson Browne - The Load-Out / Stay (1977)
[452] [430] [484] [281] [251] 110 The Temper Trap - Trembling Hands (2012)

[202] [111] [061] [108] [104] 111 Cockney Rebel - Sebastian (1973)
[130] [175] [290] [231] [097] 112 Editors - Smokers Outside The Hospital Doors (2007)
[278] [305] [226] [202] [102] 113 Silversun Pickups - Lazy Eye (2006)
[.....] [.....] [.....] [298] [094] 114 Manchester Orchestra - The Alien (2017)
[158] [096] [127] [123] [084] 115 Echo & The Bunnymen - The Killing Moon (1984)
[215] [199] [168] [184] [201] 116 Klein Orkest - Over De Muur (1984)
[062] [059] [063] [077] [073] 117 U2 - One (1991)
[108] [073] [180] [217] [144] 118 The Cranberries - Zombie (1994)
[.....] [.....] [494] [352] [233] 119 The War On Drugs - Under The Pressure (2014)
[137] [127] [086] [099] [155] 120 Simon & Garfunkel - The Boxer (1969)

[055] [069] [067] [144] [114] 121 The Doors - L.A. Woman (1971)
[059] [083] [059] [082] [057] 122 The Who - Baba O'Riley (1971)
[081] [067] [073] [042] [160] 123 Alice Cooper - Halo Of Flies (1971)
[269] [355] [254] [218] [168] 124 The Beatles - Eleanor Rigby (1966)
[265] [117] [189] [169] [120] 125 Editors - The Racing Rats (2007)
[199] [120] [136] [125] [256] 126 David Bowie - Space Oddity (1969)
[111] [178] [191] [146] [072] 127 Kate Bush - The Man With The Child In His Eyes (1978)
[327] [337] [299] [244] [135] 128 R.E.M. - Find The River (1992)
[025] [039] [046] [071] [131] 129 Coldplay - The Scientist (2002)
[287] [152] [206] [192] [143] 130 The Beatles - Strawberry Fields Forever (1967)

[.....] [.....] [.....] [.....] [.....] 131 Danny Vera - Roller Coaster (2019)
[103] [192] [324] [104] [117] 132 Underworld - Born Slippy .NUXX (1996)
[262] [099] [098] [129] [123] 133 Billy Joel - Piano Man (1974)
[.....] [425] [332] [252] [149] 134 The Isley Brothers - The Highways Of My Life (1973)
[205] [283] [171] [280] [092] 135 Creed - Who's Got My Back? (2001)
[074] [058] [053] [079] [166] 136 Jefferson Airplane - White Rabbit (1967)
[079] [084] [140] [112] [060] 137 Queens Of The Stone Age - No One Knows (2002)
[211] [230] [179] [156] [128] 138 Sigur Rós - Untitled #8 (2002)
[129] [109] [089] [193] [142] 139 Madrugada - The Kids Are On High Street (2005)
[424] [281] [154] [172] [154] 140 Linkin Park - Breaking The Habit (2003)

[173] [156] [230] [203] [183] 141 Soundgarden - Black Hole Sun (1994)
[083] [161] [259] [049] [056] 142 Led Zeppelin - Kashmir (1975)
[071] [076] [109] [059] [186] 143 Joy Division - Love Will Tear Us Apart (1980)
[.....] [211] [198] [209] [130] 144 Procol Harum - A Whiter Shade Of Pale (1967)
[088] [080] [108] [178] [139] 145 Red Hot Chili Peppers - Under The Bridge (1992)
[113] [125] [102] [109] [207] 146 Talk Talk - Such A Shame (1984)
[136] [123] [331] [183] [330] 147 The Beatles - Here Comes The Sun (1969)
[105] [093] [185] [114] [180] 148 Faithless - Insomnia (1995)
[101] [191] [141] [174] [159] 149 Neil Young - Rockin' In The Free World (1989)
[.....] [424] [079] [113] [085] 150 Tame Impala - Let It Happen (2015)

[169] [322] [211] [170] [095] 151 Amy Winehouse - Back To Black (2006)
[131] [079] [163] [137] [100] 152 Stereophonics - Dakota (2005)
[349] [389] [210] [284] [326] 153 Oasis - Champagne Supernova (1995)
[.....] [.....] [239] [141] [241] 154 The Temptations - Papa Was A Rolling Stone (1972)
[260] [160] [157] [235] [244] 155 Keane - Somewhere Only We Know (2004)
[044] [037] [045] [068] [096] 156 Muse - New Born (2001)
[255] [210] [271] [274] [351] 157 Journey - Don't Stop Believin' (1981)
[082] [090] [197] [168] [178] 158 Bob Dylan - Hurricane (1975)
[210] [357] [227] [265] [271] 159 Fleetwood Mac - The Chain (1977)
[473] [330] [232] [207] [283] 160 ABBA - The Day Before You Came (1982)

[251] [209] [175] [145] [133] 161 Orchestral Manoeuvres In The Dark - Maid Of Orleans (The Waltz Joan Of Arc) (1981)
[119] [115] [155] [130] [179] 162 Saybia - The Second You Sleep (2002)
[190] [319] [186] [205] [157] 163 Kansas - Dust In The Wind (1977)
[249] [248] [300] [239] [.....] 164 Aerosmith - Dream On (1973)
[112] [074] [190] [334] [212] 165 Queen - Somebody To Love (1976)
[208] [317] [201] [096] [192] 166 Tubeway Army - Are 'Friends' Electric? (1979)
[114] [126] [122] [090] [050] 167 Arcade Fire - Neighborhood #1 (Tunnels) (2004)
[085] [098] [118] [173] [163] 168 The Alan Parsons Project - Old And Wise (1981)
[381] [371] [416] [282] [132] 169 White Lies - Farewell To The Fairground (2009)
[.....] [.....] [096] [119] [108] 170 Small Faces - Tin Soldier (1967)

[188] [338] [193] [136] [101] 171 U2 - New Year's Day (1983)
[091] [165] [200] [161] [264] 172 The Killers - Mr. Brightside (2003)
[469] [200] [160] [131] [098] 173 Gorky - Mia (1992)
[134] [104] [062] [065] [105] 174 The Smiths - Bigmouth Strikes Again (1986)
[.....] [321] [275] [243] [124] 175 ABBA - Eagle (1977)
[410] [405] [173] [186] [125] 176 The Boxer Rebellion - Diamonds (2013)
[089] [064] [068] [062] [197] 177 The Rolling Stones - Sympathy For The Devil (1968)
[174] [147] [188] [256] [431] 178 Goo Goo Dolls - Iris (1998)
[238] [198] [215] [163] [246] 179 U2 - Pride (In The Name Of Love) (1984)
[297] [260] [283] [241] [182] 180 Placebo - The Bitter End (2003)

[.....] [.....] [.....] [.....] [147] 181 Myles Kennedy - Love Can Only Heal (2018)
[148] [164] [128] [157] [221] 182 Lynyrd Skynyrd - Freebird (1973)
[100] [154] [094] [177] [174] 183 Eagles - The Last Resort (1976)
[.....] [.....] [426] [237] [249] 184 Anathema - Fragile Dreams (1998)
[092] [106] [077] [197] [225] 185 Neil Young - Like A Hurricane (1977)
[341] [293] [404] [206] [158] 186 Het Goede Doel - Alles Geprobeerd (1986)
[.....] [329] [199] [242] [193] 187 The Parlor Mob - Cry Wolf (2015)
[115] [118] [101] [092] [214] 188 Massive Attack - Unfinished Sympathy (1991)
[468] [251] [247] [188] [161] 189 BAP - Kristallnaach (1982)
[303] [304] [353] [.....] [129] 190 Ray Lamontagne - Be Here Now (2006)

[099] [068] [090] [085] [110] 191 Guns N' Roses - Sweet Child O' Mine (1987)
[213] [214] [223] [441] [141] 192 Nick Cave & The Bad Seeds - Jubilee Street (2013)
[232] [155] [167] [126] [263] 193 Placebo - Every You Every Me (1998)
[325] [208] [370] [185] [151] 194 The Mission - Tower Of Strength (1988)
[.....] [.....] [119] [171] [230] 195 Disturbed - The Sound Of Silence (2015)
[172] [144] [075] [151] [340] 196 The Animals - House Of The Rising Sun (1964)
[078] [184] [092] [116] [176] 197 Otis Redding - (Sittin' On) The Dock Of The Bay (1968)
[165] [195] [319] [160] [191] 198 The Alan Parsons Project - The Turn Of A Friendly Card (1980)
[423] [.....] [228] [232] [335] 199 The Mamas & The Papas - California Dreamin' (1965)
[066] [089] [104] [176] [215] 200 Coldplay - Yellow (2000)

[200] [085] [139] [148] [381] 201 Boston - More Than A Feeling (1976)
[400] [408] [468] [372] [238] 202 Nick Drake - Day Is Done (1969)
[072] [101] [116] [147] [257] 203 Dire Straits - Private Investigations (1982)
[.....] [.....] [.....] [.....] [.....] 204 Neil Diamond - I Am.....I Said (1971)
[050] [095] [359] [086] [138] 205 Pearl Jam - Jeremy (1991)
[422] [351] [358] [367] [.....] 206 Amanda Marshall - Beautiful Goodbye (1995)
[073] [132] [156] [106] [136] 207 Simon & Garfunkel - The Sound Of Silence (1965)
[443] [340] [.....] [195] [336] 208 Radiohead - Let Down (1997)
[299] [277] [317] [229] [245] 209 White Lies - Death (2008)
[216] [310] [301] [386] [219] 210 Damien Rice - 9 Crimes (2006)

[343] [203] [177] [191] [224] 211 Interpol - Pioneer To The Falls (2007)
[.....] [.....] [398] [436] [173] 212 Junip - Line Of Fire (2013)
[.....] [.....] [.....] [.....] [.....] 213 Steely Dan - Reelin' In The Years (1973)
[248] [237] [172] [226] [171] 214 Novastar - Wrong (1999)
[.....] [.....] [.....] [307] [262] 215 The War On Drugs - Thinking Of A Place (2017)
[458] [.....] [456] [338] [254] 216 Gorillaz - On Melancholy Hill (2010)
[171] [265] [419] [.....] [300] 217 Jeff Buckley - Grace (1994)
[095] [105] [076] [110] [145] 218 Muse - Uprising (2009)
[109] [136] [237] [162] [290] 219 Led Zeppelin - Whole Lotta Love (1969)
[201] [256] [147] [166] [208] 220 Simon & Garfunkel - Bridge Over Troubled Water (1970)

[365] [194] [284] [097] [162] 221 The Waterboys - The Whole Of The Moon (1985)
[.....] [.....] [.....] [335] [107] 222 The Slow Show - Dresden (2014)
[318] [196] [288] [299] [203] 223 Songs: Ohia - Lioness (2000)
[398] [240] [262] [204] [223] 224 Manic Street Preachers - A Design For Life (1996)
[257] [097] [132] [124] [196] 225 Killing Joke - Love Like Blood (1985)
[128] [121] [138] [101] [089] 226 The Rolling Stones - Paint It Black (1966)
[.....] [.....] [.....] [.....] [.....] 227 The War On Drugs - Pain (2017)
[212] [442] [438] [392] [417] 228 Marvin Gaye - What's Going On (1971)
[.....] [.....] [477] [375] [277] 229 Steven Wilson - Routine (2015)
[.....] [.....] [365] [465] [408] 230 The Slow Show - Bloodline (2015)

[167] [159] [161] [272] [229] 231 U2 - Where The Streets Have No Name (1987)
[263] [308] [231] [117] [106] 232 Prince & The Revolution - When Doves Cry (1984)
[463] [376] [.....] [343] [273] 233 Joe Jackson - Real Men (1982)
[098] [087] [202] [251] [185] 234 Oasis - Wonderwall (1995)
[.....] [.....] [.....] [394] [146] 235 Ray Wilson - Wait For Better Days (2013)
[118] [190] [099] [122] [165] 236 Golden Earring - Radar Love (1973)
[362] [235] [273] [115] [170] 237 Genesis - Firth Of Fifth (1973)
[063] [077] [110] [182] [195] 238 The Shins - New Slang (2001)
[.....] [.....] [470] [253] [226] 239 David Bowie - Starman (1972)
[161] [176] [170] [199] [376] 240 Blur - Song 2 (1997)

[.....] [222] [165] [142] [118] 241 Split Enz - Message To My Girl (1984)
[175] [177] [222] [236] [205] 242 Muse - Unintended (1999)
[181] [224] [131] [164] [234] 243 Talking Heads - Psycho Killer (1977)
[155] [133] [268] [143] [270] 244 R.E.M. - Losing My Religion (1991)
[.....] [.....] [130] [120] [140] 245 Jim Croce - Time In A Bottle (1972)
[363] [452] [133] [230] [298] 246 Bob Marley & The Wailers - Redemption Song (1977)
[.....] [465] [229] [286] [228] 247 Electric Light Orchestra - Livin' Thing (1976)
[273] [241] [315] [270] [177] 248 R.E.M. - Drive (1992)
[243] [249] [282] [321] [156] 249 The National - England (2010)
[183] [145] [123] [228] [292] 250 The Horrors - Sea Within A Sea (2009)

[.....] [.....] [.....] [.....] [.....] 251 The Proclaimers - I'm Gonna Be (500 Miles) (1988)
[221] [163] [256] [219] [291] 252 A Flock Of Seagulls - I Ran (So Far Away) (1982)
[176] [173] [087] [285] [.....] 253 Phil Collins - In The Air Tonight (1981)
[217] [157] [255] [297] [190] 254 The Sound - Winning (1981)
[.....] [.....] [.....] [448] [213] 255 Riverside - Lost (Why Should I Be Frightened By A Hat?) (2015)
[150] [306] [371] [376] [164] 256 The National - Conversation 16 (2010)
[332] [348] [388] [359] [272] 257 Green Day - Boulevard Of Broken Dreams (2004)
[282] [349] [433] [409] [452] 258 Boudewijn De Groot - Eva (1967)
[231] [186] [265] [149] [189] 259 Guns N' Roses - Estranged (1991)
[499] [.....] [.....] [483] [285] 260 The Knife - Silent Shout (2006)

[.....] [.....] [.....] [.....] [.....] 261 Volbeat - Lola Montez (2013)
[153] [066] [117] [180] [194] 262 Coldplay - Clocks (2002)
[187] [.....] [207] [155] [167] 263 The Stranglers - Golden Brown (1981)
[157] [187] [329] [194] [258] 264 The Smashing Pumpkins - Disarm (1993)
[317] [221] [224] [128] [321] 265 Talk Talk - Living In Another World (1986)
[207] [202] [378] [490] [396] 266 The Cure - Lullaby (1989)
[456] [254] [294] [196] [387] 267 Evanescence - My Immortal (2003)
[.....] [496] [362] [248] [150] 268 Beach House - Myth (2012)
[337] [327] [176] [200] [217] 269 Kings Of Leon - Closer (2008)
[.....] [347] [471] [.....] [247] 270 First Aid Kit - My Silver Lining (2014)

[.....] [.....] [.....] [.....] [175] 271 Coldplay - Don't Panic (2000)
[359] [481] [286] [.....] [288] 272 Kayak - Starlight Dancer (1977)
[125] [174] [194] [249] [278] 273 Simple Minds - Belfast Child (1989)
[.....] [.....] [.....] [445] [354] 274 Poets Of The Fall - Sleep (2005)
[106] [107] [242] [107] [204] 275 The White Stripes - Seven Nation Army (2003)
[143] [232] [166] [127] [265] 276 Air - All I Need (1999)
[110] [205] [149] [278] [187] 277 Dire Straits - Tunnel Of Love (1980)
[.....] [.....] [.....] [201] [218] 278 Peter Gabriel - Solsbury Hill (1977)
[.....] [.....] [.....] [.....] [284] 279 Aretha Franklin - I Say A Little Prayer (1968)
[329] [450] [341] [327] [314] 280 Toto - Africa (1982)

[218] [188] [234] [153] [320] 281 Michael Jackson - Billie Jean (1982)
[.....] [.....] [238] [325] [352] 282 Sivert Høyem - Shadows/High Meseta (2009)
[270] [223] [244] [224] [169] 283 The Smashing Pumpkins - Tonight, Tonight (1995)
[315] [462] [464] [287] [222] 284 The Beatles - While My Guitar Gently Weeps (1968)
[.....] [.....] [.....] [.....] [260] 285 America - A Horse With No Name (1971)
[369] [352] [241] [263] [220] 286 Deacon Blue - Your Town (1993)
[204] [411] [.....] [301] [486] 287 The Stooges - I Wanna Be Your Dog (1969)
[283] [216] [203] [255] [312] 288 Marillion - Script For A Jester's Tear (1983)
[.....] [.....] [.....] [457] [.....] 289 Steven Wilson Feat. Ninet Tayeb - Pariah (2017)
[.....] [483] [396] [383] [227] 290 Graffiti6 - Annie You Save Me (2010)

[.....] [.....] [.....] [216] [242] 291 Linkin Park - Numb (2003)
[225] [141] [345] [150] [274] 292 Nirvana - Lithium (1991)
[.....] [.....] [.....] [430] [341] 293 Kayak - Ruthless Queen (1978)
[.....] [.....] [462] [.....] [172] 294 Typhoon - Zandloper (2014)
[180] [207] [217] [179] [237] 295 Simple Minds - Someone Somewhere In Summertime (1982)
[380] [276] [285] [346] [317] 296 Linkin Park - New Divide (2009)
[361] [263] [279] [439] [337] 297 Queen - Don't Stop Me Now (1978)
[.....] [.....] [.....] [.....] [370] 298 Jonathan Jeremiah - If you Only (2011)
[096] [142] [225] [165] [181] 299 Metallica - Master Of Puppets (1986)
[147] [167] [354] [245] [119] 300 The Church - Under The Milky Way (1988)

[.....] [.....] [474] [461] [331] 301 Meg Myers - Desire (2014)
[160] [247] [158] [223] [287] 302 Madrugada - Majesty (2002)
[440] [282] [476] [429] [.....] 303 Johan - Tumble And Fall (2001)
[.....] [426] [183] [240] [121] 304 Donna Summer - I Feel Love (1977)
[.....] [.....] [.....] [.....] [.....] 305 Duncan Laurence - Arcade (2018)
[.....] [.....] [449] [460] [357] 306 Tracy Chapman - Fast Car (1988)
[280] [239] [240] [339] [240] 307 Muse - Sunburn (1999)
[087] [138] [302] [190] [261] 308 Radiohead - Fake Plastic Trees (1995)
[.....] [.....] [.....] [.....] [.....] 309 Curtis Harding - Where We Are (2018)
[159] [226] [.....] [305] [279] 310 Faithless - God Is A DJ (1998)

[104] [150] [313] [247] [.....] 311 Neil Young - Heart Of Gold (1972)
[.....] [.....] [.....] [.....] [325] 312 Nothing But Thieves - Amsterdam (2017)
[.....] [.....] [.....] [.....] [281] 313 Sue The Night - The World Below (2017)
[222] [.....] [394] [257] [328] 314 The Gathering - Strange Machines (1995)
[.....] [.....] [150] [347] [327] 315 Muse - Psycho (2015)
[428] [.....] [.....] [.....] [.....] 316 The Amazing Stroopwafels - Oude Maasweg (1982)
[.....] [448] [.....] [.....] [422] 317 Tröckener Kecks - Niemand Thuis (2000)
[446] [.....] [386] [296] [.....] 318 Gerry Rafferty - Baker Street (1978)
[366] [423] [277] [306] [324] 319 Editors - An End Has A Start (2007)
[296] [344] [380] [474] [255] 320 Moby - Everloving (1999)

[168] [261] [409] [250] [268] 321 Creedence Clearwater Revival - I Put A Spell On You (1968)
[261] [271] [204] [215] [259] 322 Interpol - Not Even Jail (2004)
[419] [484] [253] [167] [.....] 323 Fischer-Z - So Long (1980)
[351] [158] [144] [317] [305] 324 Duran Duran - The Chauffeur (1982)
[347] [325] [314] [342] [426] 325 Talk Talk - Renée (1984)
[.....] [285] [349] [.....] [346] 326 The Beatles - Norwegian Wood (This Bird Has Flown) (1965)
[.....] [.....] [.....] [362] [295] 327 Kayak - Merlin (1981)
[286] [487] [460] [261] [405] 328 Talking Heads - Once In A Lifetime (1980)
[191] [206] [249] [158] [202] 329 The Doors - Light My Fire (1967)
[353] [257] [213] [289] [286] 330 Thirteen Senses - Into The Fire (2004)

[133] [166] [236] [311] [319] 331 Muse - Plug In Baby (2001)
[247] [183] [391] [340] [267] 332 Portishead - Glory Box (1994)
[.....] [.....] [498] [.....] [.....] 333 Dusty Springfield - I Close My Eyes And Count To Ten (1968)
[271] [307] [281] [378] [409] 334 The Stone Roses - I Am The Resurrection (1989)
[.....] [386] [295] [344] [.....] 335 Queen & David Bowie - Under Pressure (1981)
[462] [244] [.....] [477] [432] 336 Billy Joel - Leningrad (1989)
[.....] [365] [330] [.....] [359] 337 Then Jerico - The Motive (1987)
[311] [289] [261] [360] [383] 338 Novastar - The Best Is Yet To Come (2000)
[256] [266] [298] [313] [250] 339 Band Of Horses - Factory (2010)
[084] [061] [048] [138] [198] 340 Jeff Buckley - Hallelujah (1994)

[430] [488] [458] [411] [276] 341 The Verve - The Drugs Don't Work (1997)
[116] [225] [267] [175] [296] 342 Black Sabbath - Paranoid (1970)
[186] [197] [339] [468] [.....] 343 Eddie Vedder - Society (2007)
[.....] [.....] [.....] [.....] [.....] 344 Atmosphere - Painting (2008)
[196] [148] [146] [198] [211] 345 Arcade Fire - We Used To Wait (2010)
[038] [060] [174] [133] [232] 346 Radiohead - Creep (1992)
[.....] [.....] [.....] [440] [375] 347 The Shirts - Laugh And Walk Away (1979)
[240] [342] [336] [485] [450] 348 Tori Amos - Winter (1991)
[.....] [.....] [.....] [371] [.....] 349 Porcupine Tree - Anesthetize (2007)
[300] [296] [437] [495] [457] 350 Kate Bush - Cloudbusting (1985)

[293] [284] [316] [405] [200] 351 Marvin Gaye - Inner City Blues (Make Me Wanna Holler) (1971)
[146] [129] [126] [246] [294] 352 Muse - Hysteria (2003)
[.....] [.....] [270] [370] [235] 353 Grant Lee Buffalo - Fuzzy (1993)
[220] [139] [142] [139] [316] 354 Snow Patrol - Chasing Cars (2006)
[284] [378] [209] [303] [188] 355 Elbow - Mirrorball (2008)
[.....] [.....] [428] [.....] [253] 356 Love - Alone Again Or (1967)
[.....] [.....] [.....] [308] [297] 357 Propaganda - Duel (1985)
[239] [455] [414] [451] [394] 358 Rammstein - Sonne (2001)
[197] [303] [169] [337] [.....] 359 AC/DC - Whole Lotta Rosie (1977)
[237] [259] [373] [384] [425] 360 Midlake - Roscoe (2006)

[388] [.....] [.....] [.....] [477] 361 Golden Earring - Twilight Zone (1982)
[.....] [.....] [.....] [.....] [.....] 362 The Cars - Drive (1984)
[.....] [406] [478] [322] [436] 363 The Kinks - Celluloid Heroes (1972)
[.....] [.....] [.....] [.....] [366] 364 The Killers - All These Things That I've Done (2004)
[135] [201] [164] [292] [306] 365 U2 - Sunday Bloody Sunday (1983)
[224] [258] [411] [331] [371] 366 Earth And Fire - Song Of The Marching Children (1971)
[.....] [.....] [.....] [.....] [322] 367 Manchester Orchestra - The Silence (2017)
[491] [394] [372] [377] [275] 368 Arcade Fire - Sprawl II (Mountains Beyond Mountains) (2010)
[294] [288] [243] [266] [350] 369 Al Stewart - Year Of The Cat (1976)
[461] [350] [397] [.....] [.....] 370 The Spinners - The Rubberband Man (1976)

[494] [377] [479] [291] [280] 371 Hooverphonic - Mad About You (2000)
[149] [130] [106] [213] [126] 372 AC/DC - Thunderstruck (1990)
[.....] [313] [.....] [.....] [.....] 373 Oasis - Live Forever (1994)
[393] [268] [304] [.....] [482] 374 K's Choice - Not An Addict (1995)
[127] [134] [292] [332] [269] 375 John Lennon - Working Class Hero (1971)
[465] [.....] [487] [361] [293] 376 Electric Light Orchestra - Can't Get It Out Of My Head (1974)
[425] [291] [321] [363] [.....] 377 Billy Joel - Goodnight Saigon (1982)
[214] [294] [221] [438] [389] 378 Madness - One Step Beyond (1979)
[379] [498] [408] [449] [439] 379 Jacques Brel - Ne Me Quitte Pas (1959)
[.....] [.....] [.....] [412] [449] 380 Ramses Shaffy - Laat Me (1978)

[449] [446] [450] [.....] [475] 381 Midlake - Head Home (2006)
[.....] [.....] [.....] [.....] [.....] 382 Silversun Pickups - Neon Wound (2019)
[229] [219] [248] [234] [347] 383 Elvis Costello & The Attractions - I Want You (1986)
[356] [467] [481] [.....] [248] 384 Tears For Fears - Sowing The Seeds Of Love (1989)
[141] [252] [266] [323] [303] 385 The Velvet Underground - Venus In Furs (1967)
[.....] [478] [400] [.....] [444] 386 The Moody Blues - Question (1970)
[451] [499] [.....] [385] [480] 387 Radiohead - Lucky (1997)
[.....] [.....] [374] [262] [302] 388 Liesbeth List & Ramses Shaffy - Pastorale (1968)
[179] [.....] [.....] [.....] [.....] 389 Beastie Boys - Sabotage (1994)
[.....] [.....] [.....] [484] [465] 390 The National - About Today (2004)

[418] [.....] [427] [435] [369] 391 Dire Straits - Romeo And Juliet (1980)
[042] [082] [148] [222] [301] 392 Live - Lightning Crashes (1995)
[166] [140] [352] [288] [428] 393 The Rolling Stones - Angie (1973)
[.....] [.....] [452] [420] [368] 394 Other Lives - Black Tables (2009)
[.....] [.....] [.....] [.....] [358] 395 Mike Oldfield & Maggie Reilly - Moonlight Shadow (1983)
[.....] [.....] [312] [489] [377] 396 U2 - One Tree Hill (1987)
[316] [418] [326] [.....] [414] 397 Pearl Jam - Even Flow (1991)
[.....] [.....] [.....] [479] [.....] 398 Jeff Wayne & Justin Hayward - The Eve Of The War (1978)
[433] [331] [392] [349] [282] 399 Other Lives - For 12 (2011)
[346] [471] [410] [336] [.....] 400 Fleetwood Mac - Rhiannon (Will You Ever Win) (1975)

[226] [172] [208] [268] [329] 401 Propaganda - p:Machinery (1985)
[.....] [.....] [.....] [.....] [456] 402 M83 - Midnight City (2011)
[.....] [.....] [.....] [187] [289] 403 U2 - Red Hill Mining Town (1987)
[392] [.....] [.....] [.....] [401] 404 Arctic Monkeys - Do I Wanna Know? (2013)
[.....] [.....] [.....] [482] [451] 405 Archive - Bullets (2009)
[345] [332] [303] [279] [.....] 406 Mark & Clark Band - Worn Down Piano (1977)
[496] [392] [355] [333] [464] 407 Marc Almond - Tears Run Rings (1988)
[.....] [334] [350] [416] [479] 408 The Naked And Famous - Punching In A Dream (2010)
[.....] [.....] [.....] [275] [440] 409 The Smashing Pumpkins - 1979 (1995)
[372] [180] [187] [348] [362] 410 Hooverphonic - Nirvana Blue (2002)

[267] [366] [376] [369] [404] 411 Blue Öyster Cult - (Don't Fear) The Reaper (1976)
[.....] [.....] [.....] [.....] [.....] 412 The Smashing Pumpkins - Bullet With Butterfly Wings (1995)
[386] [436] [.....] [456] [342] 413 Editors - Munich (2005)
[.....] [.....] [.....] [.....] [.....] 414 Chicago - 25 Or 6 To 4 (1970)
[152] [300] [246] [423] [.....] 415 Nirvana - Come As You Are (1991)
[.....] [492] [406] [419] [491] 416 Genesis - The Musical Box (1971)
[.....] [433] [463] [.....] [.....] 417 Simple Minds - Theme For Great Cities (1981)
[375] [.....] [480] [.....] [.....] 418 David Bowie - Wild Is The Wind (1976)
[277] [312] [475] [418] [.....] 419 The Killers - Somebody Told Me (2004)
[354] [245] [159] [267] [402] 420 The Airborne Toxic Event - Sometime Around Midnight (2008)

[485] [299] [333] [.....] [.....] 421 Crowded House - Don't Dream It's Over (1987)
[266] [272] [305] [295] [304] 422 Bruce Springsteen - Jungleland (1975)
[.....] [333] [214] [269] [307] 423 Rush - The Garden (2012)
[383] [311] [323] [310] [498] 424 Cream - White Room (1968)
[.....] [.....] [.....] [487] [.....] 425 Ayreon - Day Sixteen: Loser (2004)
[.....] [.....] [.....] [.....] [.....] 426 Duran Duran - Save A Prayer (1985)
[335] [356] [309] [444] [476] 427 Faith No More - Stripsearch (1998)
[324] [274] [320] [.....] [481] 428 Rush - Tom Sawyer (1981)
[138] [262] [296] [.....] [315] 429 Nick Cave & The Bad Seeds - The Mercy Seat (1988)
[338] [171] [357] [374] [407] 430 Visage - Fade To Grey (1980)

[252] [407] [337] [467] [429] 431 Fleet Foxes - Mykonos (2008)
[139] [234] [182] [264] [438] 432 Pink Floyd - Another Brick In The Wall (Part II) (1979)
[.....] [218] [454] [373] [332] 433 The Blue Nile - Tinseltown In The Rain (1983)
[401] [323] [251] [315] [309] 434 Yes - Close To The Edge (1972)
[242] [182] [322] [320] [356] 435 Pearl Jam - Just Breathe (2009)
[.....] [.....] [.....] [.....] [.....] 436 Queen - Killer Queen (1974)
[.....] [.....] [443] [.....] [473] 437 Deep Purple - Highway Star (1972)
[.....] [.....] [289] [276] [310] 438 Madness - Night Boat To Cairo (1980)
[417] [336] [389] [366] [252] 439 John Grant - Marz (2010)
[371] [286] [417] [424] [367] 440 dEUS - Roses (1996)

[.....] [.....] [.....] [.....] [382] 441 Chris Isaak - Wicked Game (1989)
[.....] [.....] [.....] [.....] [.....] 442 Sia - Chandelier (2014)
[352] [372] [311] [469] [478] 443 Buffalo Tom - Taillights Fade (1992)
[264] [397] [.....] [.....] [427] 444 Alphaville - Forever Young (1984)
[.....] [.....] [.....] [.....] [458] 445 The Band - The Weight (1968)
[.....] [.....] [153] [314] [.....] 446 Kensington - Streets (2014)
[.....] [.....] [.....] [.....] [.....] 447 Supertramp - The Logical Song (1979)
[.....] [.....] [432] [389] [338] 448 The Slow Show - Breaks Today (2015)
[.....] [.....] [.....] [.....] [.....] 449 The Beatles - The Long And Winding Road (1970)
[439] [.....] [387] [.....] [434] 450 Evanescence - Bring Me To Life (2003)

[.....] [275] [344] [433] [460] 451 Metric - Speed The Collapse (2012)
[309] [391] [499] [.....] [.....] 452 R.E.M. - The One I Love (1987)
[.....] [.....] [.....] [406] [393] 453 10cc - I'm Not In Love (1975)
[460] [.....] [.....] [.....] [.....] 454 The Last Shadow Puppets - My Mistakes Were Made For You (2008)
[.....] [.....] [.....] [396] [400] 455 The War On Drugs - Holding On (2017)
[.....] [.....] [.....] [426] [.....] 456 Jonathan Jeremiah - Lost (2011)
[177] [.....] [447] [.....] [.....] 457 Within Temptation - Mother Earth (2000)
[481] [437] [500] [.....] [.....] 458 Toto - Home Of The Brave (1988)
[.....] [456] [.....] [498] [333] 459 Big Country - The Storm (1983)
[477] [.....] [497] [470] [392] 460 De Dijk - Niemand In De Stad (1989)

[467] [451] [.....] [410] [.....] 461 Muse - Stockholm Syndrome (2003)
[328] [401] [.....] [.....] [448] 462 MGMT - Kids (2007)
[403] [369] [382] [453] [469] 463 Athlete - Wires (2005)
[.....] [.....] [.....] [.....] [.....] 464 Van Halen - Jump (1984)
[154] [464] [.....] [358] [373] 465 The Clash - London Calling (1979)
[.....] [.....] [.....] [350] [361] 466 Earth And Fire - Storm And Thunder (1971)
[302] [.....] [.....] [357] [424] 467 DJ Shadow - Stem/Long Stem (1996)
[.....] [.....] [.....] [488] [455] 468 Traveling Wilburys - Handle With Care (1988)
[389] [114] [325] [302] [403] 469 The Jimi Hendrix Experience - Voodoo Child (Slight Return) (1968)
[.....] [290] [327] [388] [348] 470 Nick Cave & The Bad Seeds - Into My Arms (1997)

[.....] [482] [.....] [493] [472] 471 The Breeders - Cannonball (1993)
[.....] [233] [369] [458] [468] 472 Curtis Mayfield - Move On Up (1970)
[323] [447] [307] [220] [334] 473 Roxy Music - If There Is Something (1972)
[.....] [.....] [.....] [.....] [.....] 474 Queen - Who Wants To Live Forever (1986)
[.....] [.....] [.....] [.....] [.....] 475 George Michael - Cowboys And Angels (1990)
[415] [358] [.....] [447] [.....] 476 Tool - Schism (2001)
[320] [273] [196] [391] [415] 477 Coldplay - Trouble (2000)
[411] [393] [250] [294] [360] 478 Lloyd Cole And The Commotions - Rattlesnakes (1984)
[.....] [.....] [.....] [.....] [.....] 479 Suzanne Vega - Luka (1987)
[233] [.....] [431] [427] [485] 480 Dire Straits - Money For Nothing (1985)

[.....] [417] [402] [273] [364] 481 U2 - I Still Haven't Found What I'm Looking For (1987)
[.....] [410] [395] [.....] [398] 482 Regina Spektor - All The Rowboats (2012)
[250] [204] [310] [316] [391] 483 Bruce Springsteen - Born To Run (1975)
[437] [.....] [.....] [356] [.....] 484 Eurythmics - Sweet Dreams (Are Made Of This) (1983)
[373] [360] [.....] [304] [467] 485 Radiohead - No Surprises (1997)
[.....] [.....] [.....] [.....] [.....] 486 Eefje De Visser - Scheef (2016)
[.....] [449] [.....] [.....] [.....] 487 Muse - Starlight (2006)
[.....] [.....] [.....] [.....] [.....] 488 Editors - Marching Orders (2015)
[.....] [387] [.....] [.....] [416] 489 Saybia - In Spite Of (2002)
[374] [.....] [.....] [.....] [.....] 490 Metallica - The Unforgiven (1991)

[.....] [413] [466] [471] [.....] 491 The Scene - Iedereen Is Van De Wereld (1991)
[206] [.....] [.....] [.....] [.....] 492 Pink Floyd - Time (1973)
[.....] [.....] [491] [459] [.....] 493 The Police - Message In A Bottle (1979)
[198] [457] [.....] [.....] [.....] 494 Led Zeppelin - Since I've Been Loving You (1970)
[344] [181] [235] [415] [411] 495 Foo Fighters - Learn To Fly (1999)
[228] [220] [.....] [353] [.....] 496 Duran Duran - Ordinary World (1993)
[.....] [475] [.....] [.....] [.....] 497 Queen - Love Of My Life (1975)
[236] [359] [424] [413] [384] 498 Noir Désir - Le Vent Nous Portera (2001)
[182] [383] [274] [271] [313] 499 The Black Keys - Little Black Submarines (2011)
[.....] [.....] [.....] [397] [390] 500 Frankie Goes To Hollywood - Two Tribes (For The Victims Of Ravishment) (1984)

Onweerwolf

Music-lover





Aantal berichten

: 68


Registratiedatum

: 01-10-12



Verdwenen:

199. Pink Floyd - Echoes
266. David Bowie - Lazarus
299. Iggy Pop - Lust For Life
308. Bruce Springsteen - Thunder Road
311. Don Henley - The Boys Of Summer
318. Talk Talk - Life's What You Make It
323. Depeche Mode - Never Let Me Down Again
339. Stiltskin - Inside
343. Falco - Jeanny
344. Metallica - Enter Sandman
345. Fleetwood Mac - Tusk
349. The Beatles - I Am The Walrus
353. Muse - Resistance
355. Neil Young - Old Man
363. Muse - Citizen Erased
365. Pink Floyd - The Great Gig In The Sky
372. Green Day - Basket Case
374. Led Zeppelin - When The Levee Breaks
378. Duncan Browne - Wild Places
379. Underworld - Rez/Cowgirl (Live '99)
380. The Sisters Of Mercy - Temple Of Love '92
385. Weezer - Buddy Holly
386. R.E.M. - Nightswimming
388. Pink Floyd - One Of These Days
395. The Police - So Lonely
397. 16 Horsepower - Black Soul Choir
399. Marc Almond - The Stars We Are
406. dEUS - Suds & Soda
410. Blaudzun - Flame On My Head
412. Lana Del Rey - Video Games
413. The Velvet Underground - Heroin
418. Deep Purple - Smoke On The Water
419. Muse - Map Of The Problematique
420. Saybia - The Day After Tomorrow
421. David Bowie - Rock 'n' Roll Suicide
423. Sparks - This Town Ain't Big Enough For The Both Of Us
430. Pixies - Where Is My Mind?
433. Iron Maiden - The Number Of The Beast
435. Meat Loaf - Paradise By The Dashboard Light
437. The War On Drugs - An Ocean In Between The Waves
441. King Crimson - Starless
442. Big Country - In A Big Country
443. Queen - The Show Must Go On
445. Long John Baldry - (Walk Me Out In The) Morning Dew
446. Neutral Milk Hotel - In The Aeroplane Over The Sea
447. Earth, Wind & Fire - September
453. The Black Crowes - Remedy
454. Bronski Beat - Smalltown Boy
459. Boudewijn De Groot - Testament
461. Noel Gallagher's High Flying Birds - Ballad Of The Mighty I
462. Novastar - Never Back Down
463. Status Quo - Down Down
466. The Beatles - Across The Universe
470. Eagles - Desperado
471. Amy Winehouse - You Know I'm No Good
474. Dream Theater - Solitary Shell
483. Simple Minds - Don't You (Forget About Me)
484. John Cale - Paris 1919
487. Best Coast - California Nights
488. Nina Simone - Sinnerman
489. The Who - Won't Get Fooled Again
490. Tom Petty And The Heartbreakers - Learning To Fly
492. Karnivool - Themata
493. The Police - Roxanne
494. China Crisis - Wishful Thinking
495. Stereophonics - Graffiti On The Train
496. Tom Petty And The Heartbreakers - Refugee
497. Michael Jackson - Thriller
499. The Babys - Isn't It Time
500. Derek And The Dominos - Layla

Onweerwolf

Music-lover





Aantal berichten

: 68


Registratiedatum

: 01-10-12



Ik heb heel wat nummers uit mijn lijst van 300 gehoord dit weekend, maar afgezien van die persoonlijke band wil ik iedereen heel veel dank zeggen voor een heerlijk muziekweekend, dat vanwege internetperikelen voor mij pas zaterdagmorgen van start ging.

De muziek was als vanouds geweldig, gevarieerd en ook was er eindelijk hiphop present, we zullen alleen nog een jaar op Indochine moeten wachten, de DJ's waren zonder uitzondering op dreef, de microfoons luid en duidelijk en de webcam was een genoegen om te aanschouwen.

Dank daarvoor aan al diegenen, die hieraan in een of andere vorm meegewerkt hebben: Ard, Rob, Mark,Toine, Kaj, Ivo, Jorg, Chevy, Ries, Sokra, Margo, Ro, Onweerwolf voor het overzicht en wie ik in de gauwigheid wellicht vergeten ben.

Het is voorbij, welterusten allemaal, over een jaar weer de Moeder Aller Lijsten, de 13de Verrukkelijke 500!

Thanks

MrJohn

Chief





Aantal berichten

: 15915


Registratiedatum

: 16-12-08


Leeftijd

: 70



Oh daar vroeg ik net in ander topic al naar; de verdwenen platen, ik heb mijn push administratie voor volgend jaar inmiddels bijgewerkt

Mirrr

Music-Master





Aantal berichten

: 10216


Registratiedatum

: 21-12-08


Leeftijd

: 56



Pagina 2 van 2 •
1, 2
---
Permissies van dit forum:
Je
mag
reacties plaatsen in dit subforum